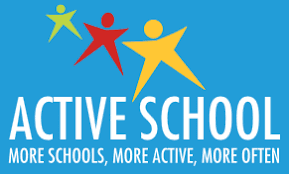 The Active School Flag (ASF) is awarded to schools that strive to achieve a physically educated and physically active school community. The process aims to get more schools, more active, more often.
Schools wishing to achieve the ASF begin the process by self-evaluating their current provision across 3 areas: Physical Education, Physical Activity and Partnerships. Schools must also organise an Active School Week programme and commit to incorporating it into their annual school calendar. Schools that can say 'yes' to all of the ASF success criteria will be awarded with the active flag. The flag remains valid for a period of 3 years after which time schools will be invited to re-apply.
We are due to receive our third Active Flag this school year. We participate in activities such as orienteering, school walks, skipping days, swimming lessons, cycles in our local community and many more.
The Active Flag committee ensure that we are all active at break times. They organise the necessary equipment, help the junior classes with activities and devise rotas. Both teachers and pupils have reaped the rewards of a more active school!