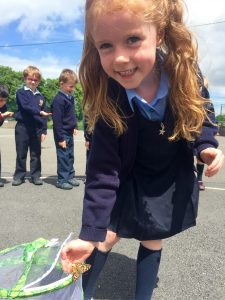 The Discover Science and Maths Award is a project that Roxboro N.S. takes part in on a regular basis. It is an award given to schools for excellence in Science and Maths. We are very proud of our six Discover Science and Maths Awards.
It has been co-ordinated by Freda Gavigan, Agnes Devaney, Eithne Fallon, Mary Fallon and Clare Walshe. The children are given the opportunity to explore Science experiments and Maths concepts and showcase their findings.
The curriculum is divided into strands and each class group is given a strand to ensure every area is covered.
The children document what they have done through writings, drawings and photos. Recently some of the senior classes made videos by taking screen shoots and putting it all together with music playing in the background. They have also created PowerPoint presentations based on some of the topics covered in class.
We host a Science event with children demonstrating experiments to other classes and parents are invited in to see our work. Some of the things that have been witnessed over the years include erupting volcanoes, boat designs, building motors, building circuits with batteries and bulbs, testing the reaction times of our parents, showing what we have planted in the school garden and a whole other myriad of crazy science stuff! We regularly get experts in to show the children the wonderful world of Science at work. Check out our cool science photos!