This month we were learning all about habitats. We looked at different habitats and what type of animal lived in each habitat. We then designed a house for an insect. We gathered all our materials and built our houses for our chosen insect. We all really enjoyed learning about habitats and constructing houses for insects!
---
The 5th class children had great fun working with clay. We moulded the clay to make pencil holders and ended up with some very creative designs!
---
A member of An Garda Síochána visited our classroom in January to talk to us about internet safety. We discussed why internet safety is so important and learned how to protect ourselves from harmful materials on the internet. 
---
Our Christmas production told the hilarious story of two bungling burglars who are on the run with a bag of stolen jewels. Through a strange turn of events, the jewels are hidden in the local school's nativity manger……. We had so much fun!  
---
BOO!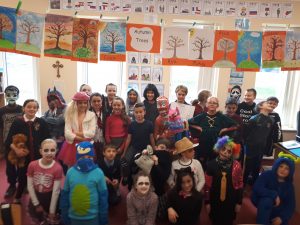 ---