At Christmas, we preformed our class play for our families. We had practising all the songs and learned our lines to say. We loved dressing up! It was great fun.
---
In November, we had lots of fun playing pretend in the clothes shop. We also enjoyed using junk art to make our own creations. Our favourite activity this month was water play.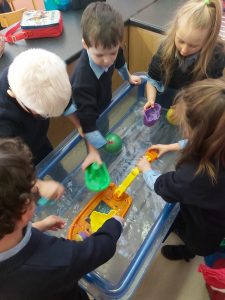 ---
We all dressed up to celebrate Halloween. It was such a fun day!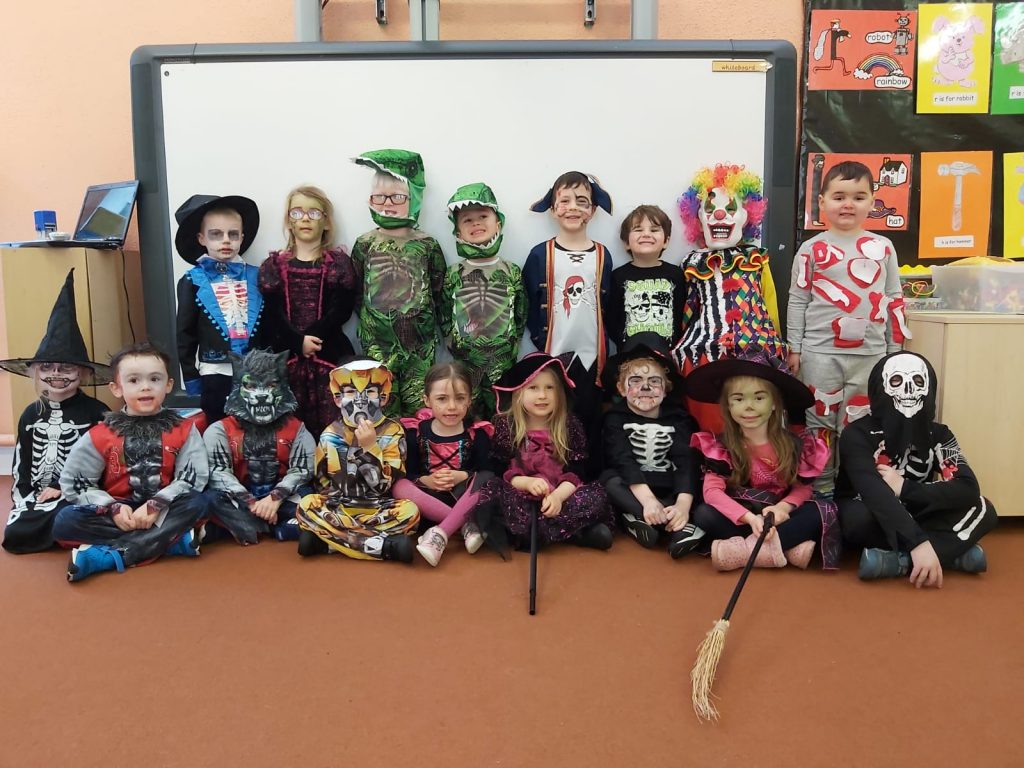 ---
We started school in September 2019. We are very excited to finally start big school. Already we have made lots of friends and are having great fun.
---
We went to Turoe Pet Farm on our school tour. We loved travelling on the bus with our friends. We enjoyed the play area, playground and farm walk but our favourite part was the inflatable city!
---
In May, we loved taking part in Active Week. Every day we had new activities to try. We enjoyed the line dancing and the stations. But our favourite day was Sport's Day!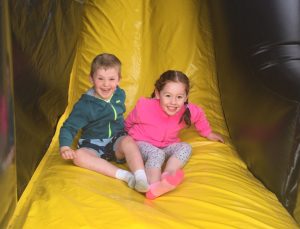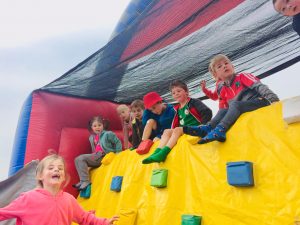 ---
For our discovery science project, Junior Infants explored the strand of Living Things. Within this, we investigated fruit within the strand unit variety and characteristics of plants.
Firstly we examined a variety of different kinds of fruits. We examined the smell, size, texture and look of them. We then washed our hands and cut up the fruit and had a taste test.
We tasted apples, pears, tangarines, grapes, strawberries, bananas and a lemon! We had to then decide which fruit we liked the best.
Here are some photos of us tasting the fruits.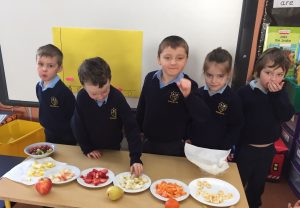 We then wrote our name on sticky paper and decided which we liked the best by placing the paper on the bar chart. After all the names were placed on the chart we viewed all the data and discussed the results.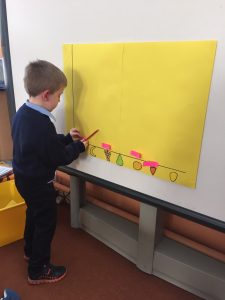 From our findings, we discovered that the apple was our favourite fruit. The pear got no votes and even the lemon got 5 votes!!
We then documented our results into a worksheet, showing the results of our experiment. We labelled the fruit in our diagrams and coloured it in when finished.
When we had our project completed, we went into Senior Infants to tell them all about our findings.
---
Junior Infants prepared for St.Patrick celebrations by having our own parade around the school grounds! We played musical instruments, wore our hats we made during Aistear and sang 'Lá le Pádraig'. We had so much fun!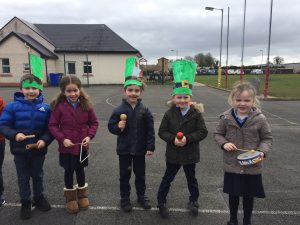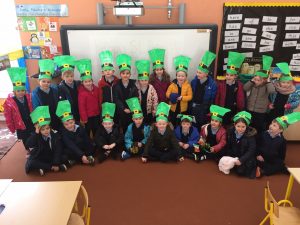 ---
On February 14th, Valentine's Day, Junior Infants got the chance to surprise their Mummies and Daddies with some yummy chocolates!
First we melted the chocolate, then poured it into heart shaped moulds and finally added the marshmallows. We had to (patiently) wait for them to set before decorating our heart boxes and filling them with the chocolates. We had great fun!
---
Junior Infants welcomed their grandparents into their classroom during Catholic Schools week.
We sang songs for them and showed them our photo wall.
Our favourite part of the day was introducing our grandparents to our friends and showing them what we do in school.
---
---
---
SPOOKY!!!!
---
---