4th Class recently completed some research projects about different countries from around the world. We enjoyed working in groups and presenting our findings to other classes. We learned lots of interesting facts about other countries!
---
Some experts for 5th class recently came to our classroom to teach us about scratch as part of Discover Science. We really enjoyed learning how to do some programming on the ipads! 
---
We are all really enjoying skipping in 4th Class. It is a great way to keep fit as well as having fun with friends!
---
Bethlehem The Musical is a brilliant new nativity that charts the exciting events leading up to one very special night in Bethlehem.
This all-singing, all-dancing,  production weaves the extraordinary story of the birth of Jesus into the ordinary lives of the people of Bethlehem and draws on the important themes of community and hospitality. We thoroughly enjoyed the experience! Well done everyone. 
---
SPOOKY!
---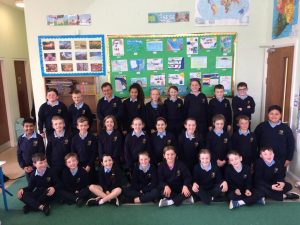 ---